Saturday, 17. May 2014, 12:30 - 17:00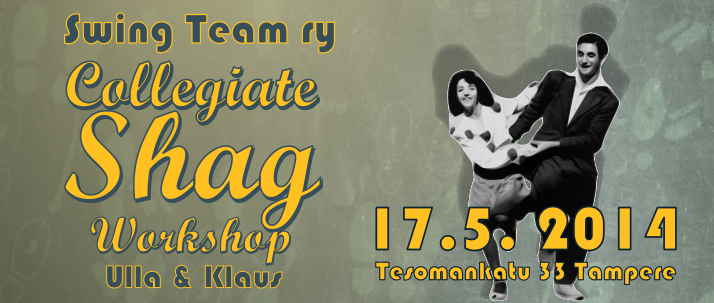 (See below for English translation)

Tervetuloa Swing Team ry:n Collegiate Shag Workshoppiin lauantaina 17.5. 12:30-17:00


Osoite: Tesomankatu 33, (Swing Teamin sali), 33310 Tampere.
Taso: Aiempaa tanssikokemusta ei tarvita

Opettajina toimivat Ulla Ritamäki ja Klaus Honko Molemmilla on vuosien kokemus erilaisten swing tanssien opetuksesta ja paljon positiivista energiaa jaettavana. Tätä workshoppia et halua missata!

Aikataulu:
12.30 - 14.30 alkeistaso
14.30 - 15.00 tauko
15.00 - 17.00 jatkotaso
17.15 - 20.00 tanssit

Hinnat:
1 taso 25 euroa (2h)
2 tasoa 30 euroa (2h)
Swing Teamin vuoden 2014 jäsenmaksu 15 € tulee olla maksettuna.

Alkeistaso sopii myös jo aiemmin shagia tanssineille ja onkin suositeltavaa osallistua molempiin tasoihin.

Mukaan kannattaa varata liukkaat kengät ja omat eväät.

Ilmoittautuminen 14.5.2014 mennessä.

Ilmoittautumislomakkeeseen pääset täältä:
https://swingteam.fi:8018/swingapp/register/course/46


Pyrimme tasapareihin, joten mikäli ilmoittaudut ilman paria, vahvistamme osallistumisesi mahdollisuuksien mukaan. Erityisesti parittomien seuraajien kannattaa ilmoittautua pikaisesti, sillä jonosta otetaan seuraajia sitä mukaa kuin uusia viejiä ilmoittautuu workshopiin.


-----

Welcome to Swing Team's Collegiate Shag Workshop on Saturday 17.5. 12:30-17:00

Place: Tesomankatu 33, (Swing Team), 33310 Tampere.
Level: Previous dance experience is not required


Teachers for the workshop will be Ulla Ritamäki ja Klaus Honko who both have years of experience in teaching various swing dances and plenty of positive energy to share. You don't want to miss this workshop!

Timetable:
12.30 - 14.30 beginner level
14.30 - 15.00 break
15.00 - 17.00 intermediate level
17.15 - 20.00 party

Prices:
1 level 25 EUR (2h)
2 levels 30 EUR (2h)
You also need to be a member of Swing Team to participate and the membership fee for 2014 is 15€.

The beginner level is also suitable for those who have danced Shag before and it is recommended to enroll for both levels.

You should take with you a pair of slippery shoes and packed lunch and some snacks.

Registration is open until 14.5. 2014

Registration form is available here (only in Finnish, you can try Google translate or send mail to info (at) swingteam.fi if you have trouble registering):
https://swingteam.fi:8018/swingapp/register/course/46
We aim to have a good leader-follower balance, so if you register without a partner, we will confirm your registration if the balance allows it. Otherwise you will be put on a waiting list and we can hopefully confirm your registration when the balance has evened out.